After almost 7 long months, football is finally back and what a Sunday it was. Groundhog day/week for the NFL teams carries a lot of curiosity and unpredictability. This year was a little more than usual with 12 Quarterbacks making their debuts for their new teams. That is more than a third of the league.
The likes of Tyrod Taylor, Teddy Bridgewater, Jameis Winston who were both looked down by the media calling them washed shone the brightest started with their new teams with a win whereas the likes of Carson Wentz, Ryan Fitzpatrick, Jared Goff were not so convincing in their respective losses.
Winners this week will be brimming with confidence going into the second week whereas the rest will look to overcome the dreaded 0-2 record. According to OddShark, since 2007, 98 teams have started 0-2 and only 12% of them have the playoffs.
There were some phenomenal performances in the season openeing
Here is the pick of the bunch:
Winners:
Jameis Winston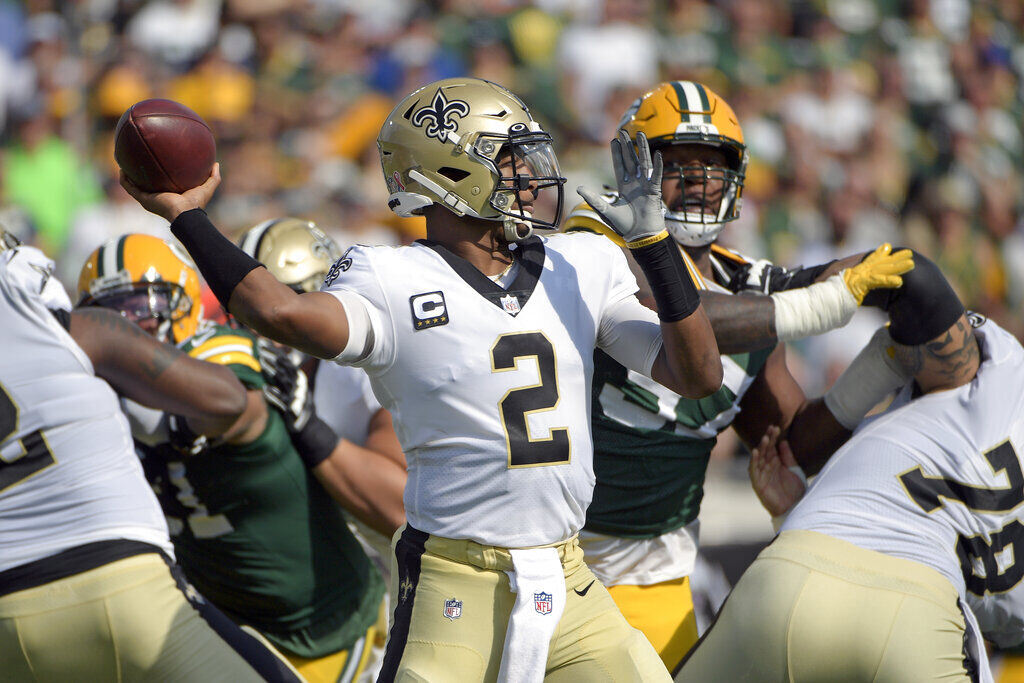 You could be mistaken for Jameis' 148 yards but he threw 5 touchdowns in the rout of the Green Bay Packers. Most importantly, he remained Interception free as he made his first start for Saints who are playing their home games in Jacksonville for the time being due to hurricane Ida. He wears #2 but he was very much the #1 for the side from the Bayou as he looked more matured than ever. A year under the tutelage of Brees and Payton seems to have paid dividends as he looked impressive in the season opener.
As a former number one pick, he could have picked a different route, shown arrogance but kudos to the former Buccaneer to show the ability to sit and learn. Exciting for the ever so crazy Saints fanbase.
Jalen Hurts
The second year QB displayed some fine range of passing in the win at Atlanta throwing for 3 Touchdowns with a total of 264 yards in the air and further 62 in the ground. Not quite Lamar Jackson level but those 3 TD's should give him a lot of confidence going forward especially after the Eagles were in Trade talk for Deshaun Watson.
Playing in one of the worst divisions in football, Hurts and Eagles can afford to build that rapport with an inexperienced receiving corp which had a great day. He combined with his fellow Bama wideout and reigning Heisman winner Devonta Smith for 79 yards and a touchdown. Sign of great things to come.
Ja'Marr Chase
Speaking of college to NFL, the duo of Chase and Burrow started right from the where they left off in the Championship game in 2019 combining for 101 yards and a TD in their overtime win over the Vikings.
There was a wholesome story of Chase calling NFL ball harder to catch than NCAA ball, harder to see without white stripes. With this performance, he proved all those noises was uncalled for and he can catch an NFL ball or two.
Burrow has an another young promising receiver Tee Higgins who showed a lot of promise last season before the QB got hurt. This should excite a lot of Bengals fans who have gone through a rough few years.
Sam Darnold
Talking about rough few years, Sam Darnold went through a few and even saw ghosts in New York. He got traded to Carolina in the offseason with a year left in his contract. His first appearance for his new team? A reunion against his former team. What a luck of the schedule? Oh wait, thanks NFL for making it happen. Darnold threw for 279 yards and a TD on his way to a victory.
Of course things will get harder as the Panthers take on the Saints next week for a bigger litmus test. However, this will be a massive confidence booster for the former USC as well as a certain Colin Cowherd.
Sometimes you just need a change of scenery to rejuvenate your career and Darnold faithfuls will hope that is the case.
Chandler Jones & the Cardinals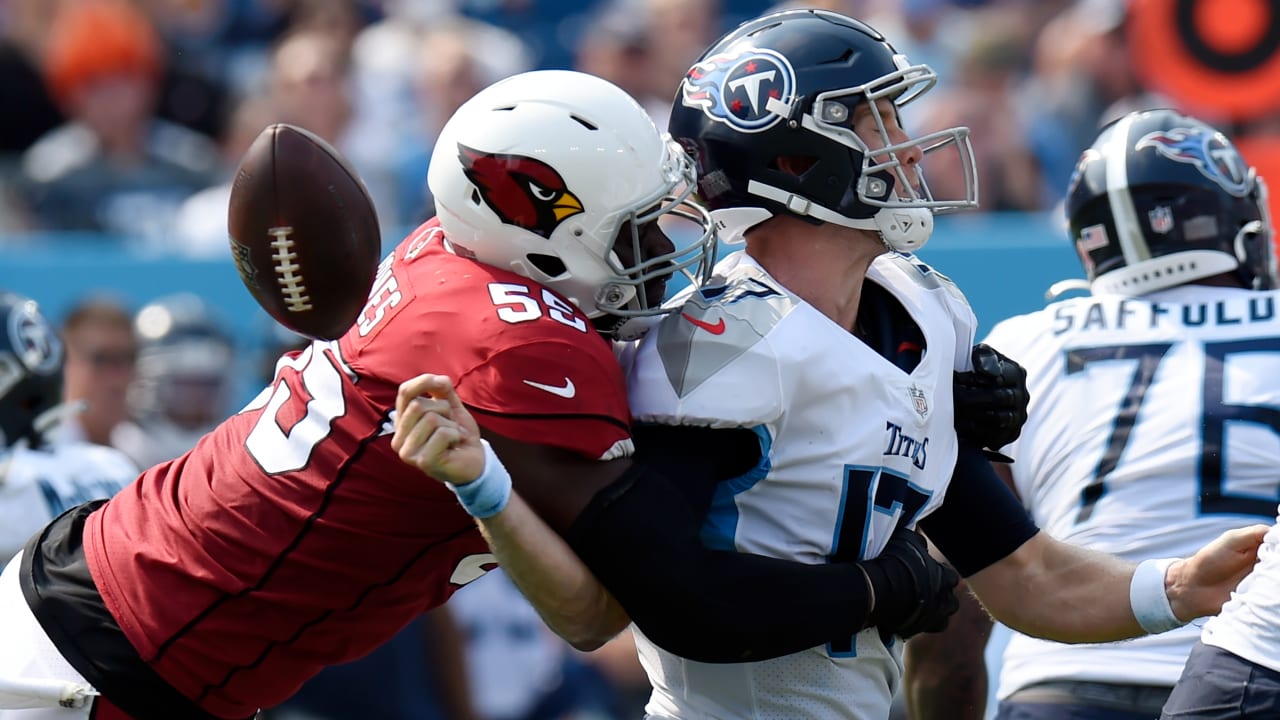 Meanwhile for some, change of scenery is nothing more than a continuation of dominance. Chandler Jones joined the Cardinals from New England in 2016 having registered 36 sacks in 4 years with the Patriots. He registered 61 in the next 5 at the desert, an incredibly consistent performer despite their struggles. The OLB began his 2021 season with a monster game in their win Nashville. He sacked Tannehill 5 times and had further 6 tackles.
At 31, he might be heading to the twilight of his career but he showed no signs of aging against a what is considered a strong O-Line.
The cardinals need as many wins as possible with a competitive division that is considered the best in football.
Losers:
Aaron Rodgers
The reigning NFL MVP was +1000 to repeat the feat this year before the season began meaning you will cash out 1000 for 100. After the loss against the Saints, the odds went to +1600.
Of course a defeat is not going to derail Packer's season in a division where they sit joint top despite losing. It is the manner in which they lost that will concern the Green Bay faithfuls.
Off season drama overshadowed Packers preparations coming into the season. Rodgers laid it to rest with his return for at least one season. However,  with this defeat, there are more questions to be answered.
A-Rod threw for a paltry 133 yards with no TD's and 2 INT. He had 6 in the whole of last season.Rodgers is indeed a human and will make mistakes but those 2 INT's he threw showed a lot of frustration. Luckily the Packers welcome the Lions to town next week as they look to get things back on track.
On a sidenote, 5 of the 9 QB's who did not play in pre-season had a rough start to the year. May be pre-season does not count but matter after-all?
Josh Allen & Buffalo Bills
As one of the off season Super Bowl contenders, the Buffalo Bills had the chance of justify the tag as they hosted the Pittsburgh Steelers. It went according to plan till half time as they went into the break 10-0 up. However, second half was a complete reverse as the Steelers posted 23 to the Bills' 6 in the second half.
Steelers' defense is known to be stingy but the fact that Allen was not in sync with his weapons will be a concern in Buffalo. The pass rush has been an issue that looked to rectify in the draft and free agency. It might take time but for now there is a lot to be done if they are to go places this season.
Matt Nagy
The Chicago Bears were in action on National TV, Sunday night and it was a night to forget for Nagy and his team as they were pushed over by the dominant LA Rams who had their first glimpse of off-season acquisition Matt Stafford in the beautiful So-Fi stadium. While Stafford balled out, Bears QB1 for now Andy Dalton struggled in his first start for the franchise. His 38 attempts yielded just 206 yards and threw one INT. To make matters worse, Fields scrambled for a TD and looked promising when given chances.
Pressure is mounting on Matt Nagy. Bears' body language looked completely different when Fields was in the huddle. The players are not stupid and will probably want a fresh start with Fields under center.
Jeff Okudah
Detroit Lions cornerback Jeff Okudah, the No. 3 overall pick in the 2020 NFL Draft, suffered a season-ending Achilles injury during the team's loss to the San Francisco 49ers on Sunday afternoon. Detroit cannot catch a break, they are already under the cosh.
It is always tough to see a player getting injured specially a long term injury such as the Achilles. We hope the Grand Prairie born defensive back can come back strong from this setback.
He had a tough rookie season as well as a difficult outing against the niners before he got injured. Twitter is already calling him a bust. It will be a massive few months ahead for the second year player out of The Ohio State University.
Joe Judge & the Giants
Joe Judge throwing the challenge flag on a scoring play and getting charged a timeout for it is atypical Giants. The second year headcoach lost a timeout which could have been crucial on some other days. Not just this brain-fart, there were too many tiny mistakes from the Giants who did not look like a well coached team. They were well beaten at home by the Denver Broncos who are expected to struggle this season.
Joe Judge challenged a TD and lost a timeout for doing so pic.twitter.com/sIung2ispn

— Alex. (@dubs4o8) September 12, 2021
Meanwhile, Daniel Jones had his usual fumbling issues. If Judge does not makes some adjustments, Thursday Night divisional showdown at Washington could already be a huge one in a shortened week.